Our home office is located anywhere that you are!
We offer meetings over the computer using the chat and video program known as Jitsi. Through this program, we are able to interact with clients using online interactive whiteboards, file drops, and screen sharing (which allows us to monitor the student's computer screen). We can see the student and the student can see us!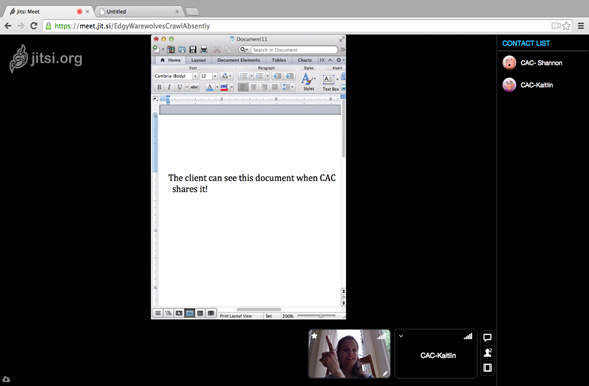 Not sure how to use Jitsi?
Not a problem- we have a simple 'how to' instruction set written specifally for our new clients. We email this to all of our clients and then give them a quick orientation during our first meeting. We have already served many, many clients over the computer and find that it is extremely effective and convenient for you! In fact, many of our students prefer computer meetings over the old-fashioned in-person tutoring they have received. They note that it enables them to meet with us more often since they do not have to take the time to travel to an office for in-person tutoring. (Parents are pleased about this as well- no carpooling necessary)! In addition, many students report that compared to in-person tutoring sessions, computer sessions cause them less anxiety since they are in the safety and comfort of an environment they are familiar with.
Not sure if Jitsi is right for you?
Check out what these clients and parents had to say about it:
We used CAC [over the] summer for SAT tutoring. Due to vacation and her soccer schedule, we were unable to arrange a time to get my daughter Arlie to CAC in Cheshire. When Shannon suggested we try [computer meetings] we were hesitant. We shouldn't have been! After a month of sessions with CAC, Arlie was able to bring her scores up 300 points. She was able to [meet via computer] from anywhere/anytime. The instructor was always prepared, professional and prompt. It made my life much easier and the results speak for themselves. Now that she has had some time to think about it, Arlie says the instruction she received from CAC was clearly the best, and I agree!
-Diane Koziol, mother of a 2015 Pomperaug High School graduate
Still not sure if Jitsi is right for you?
Try it out- you have nothing to lose! Try a session via Jitsi and see how it works for you/your student.