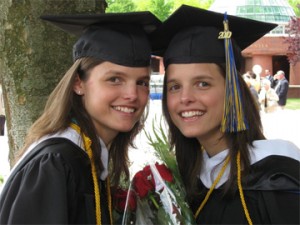 Shannon and Kaitlin Duffy, owners and consultants of College Admissions Consultants, graduated from Quinnipiac University in 2010, each earning a 4.0 GPA and sharing the title of valedictorian. Upon graduation and after gaining experience in the field by working in the undergraduate admissions office throughout their college years, the two Cheshire residents founded College Admissions Consultants with the goal of providing educational assistance to a wide range of clients.  
This year College Admissions Consultants will celebrate 10 years of business! Within that time, consultants have assisted countless students throughout Connecticut, New England and a wide variety of other states in the nation. They have helped these students gain skills necessary for success in academia, work through the college admissions process and increase their grades and test scores.  
In their spare time, Kaitlin and Shannon volunteer to help rescue animals in need. As individuals who value education, these young women believe that animals often teach us the most important lessons of all!
A word from our college consultants:
"I remember when I was a high school student working through the college admissions process. I was stressed, confused and simply overwhelmed. Since then, the college admissions process has only become more intense. Students now apply to a significantly larger number of colleges and the competitiveness of the applicant pool has also increased. It is amazing to me how some students can juggle the seemingly countless hours of homework (especially for AP classes!), sports, volunteer activities and family commitments all while applying to college. Unfortunately, many students lose sight of the end goal- that is, they apply to college and seek admission at the most competitive schools simply because they are "supposed to." They work through the process just to get it done and forget that this is a period of exploration and a search for a community that challenges you yet makes you feel at home for the next 2-4 years. This is a process about the student and their future, and I am privileged and excited to be a part of such a personal journey. Through my work with students, I hope to make the college admissions process more enjoyable (our sessions are productive yet fun) and, more importantly, be a reminder that there is a light at the end of the tunnel."

Shannon Duffy, consultant & owner of College Admissions Consultants
"Due to my experience as a student and as a consultant, I understand both how important and how stressful the college admissions process can be for the student and his or her parent(s). I want students and their families to be able to enjoy the process a bit more and strongly believe that I can help them do that.  I understand that, in many cases, high school students are in the stage of their life where they are looking for more independence and, while parents may understand and want to nurture this independence, many are equally (and understandably) nervous about doing so. After all, this process will help determine the path of next few years of the student's life so it can be hard to put all of that control and responsibility on a high school student.  That is where I come in! I can help the student in a way that fosters independence while guiding him/her through the process to ensure that he/she is on track. In doing so, I see my job not just as an educational consultant, but also as a counselor, mentor and mediator"

Kaitlin Duffy, consultant & owner of College Admissions Consultants